In the middle of an Install? Get help now!
Frequently Asked Questions
Two Power Wires
Our Harnesses are made for scalability.
Systems with the SINGLE SUBWOOFER or NO SUBWOOFER use only the power wire labeled "A".

20A Fuse goes to "A" Power Wire. 
Run both power wires to the battery, but only connect the power wire labeled "A" with this configuration. 

Systems with the SUBWOOFER W/ DEDICATED SUB AMP or DUAL SUBWOOFER will also connect the "B" power wire

30A Fuse goes to "B" Power Wire.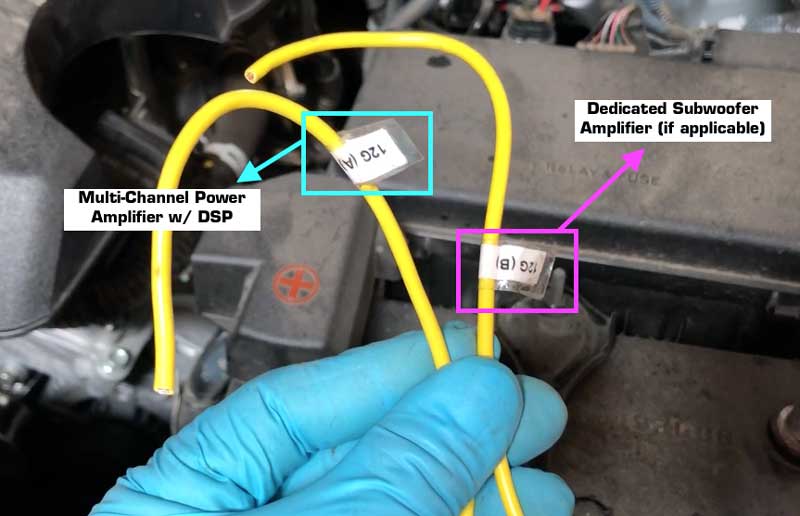 Verify Your Connections
Connectivity Instructions:
REFERENCE/SYSTEM SERIES:
EVOLUTION SERIES:
Toyota 2020+ Radio Connectivity
Your O+ Sound Solution is engineered SPECIFICALLY with your 2020+ Year Model in mind (taking into account all the updates in connectivity and output characteristics for these model years)
Door Speaker/Woofer Magnet Size
You'll notice that our new speakers have what is perceived to be a "smaller" magnet. The good news is you received the correct product and it exceeds the performance of it's predecessor. Our new Speakers feature Neodymium Magnet(s). This upgraded magnet affords us better magnetic density with higher power saturation limits and performance as the traditional magnet, only lighter and a smaller footprint when it comes to installation (eliminating the need to use spacers to clear the window assembly on some installations).
Harness/Amp Prep for Dedicated Sub Amp
Your O+ Dedicated Subwoofer Amplifier has been received separate from your O+ Sound Solution. For most convenience, we advise performing the following steps outside of the vehicle before starting your installation:
https://youtu.be/Y0X59ctX_aE
Turn up the volume on your ride.
Turn the dial to select your vehicle make.