SIGNATURE EDITION FOR THE JEEP GLADIATOR 
High-Fidelity Sound | Plug-and-Play Installation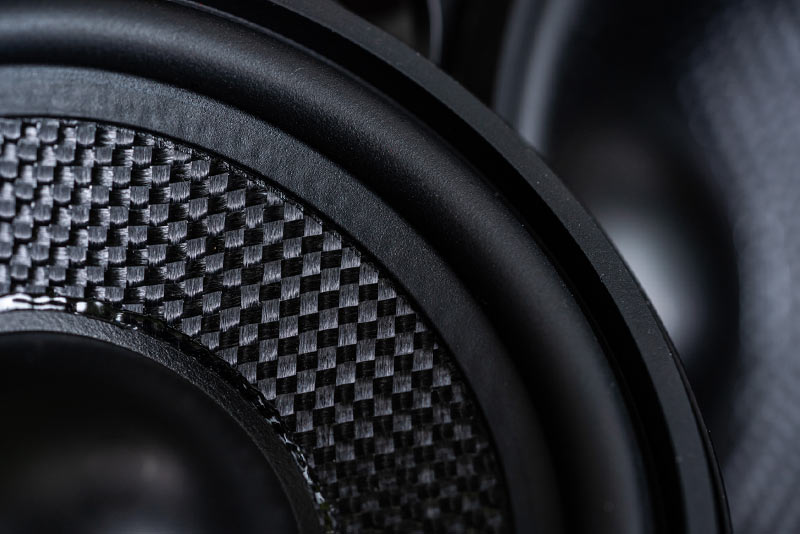 FEATURES:
Engineered and tuned specifically for the Jeep Gladiator
High-resolution clarity, loudness, and impact.
True Plug-and-Play Installation
Vehicle factory warranty remains completely intact
Guaranteed results
Signature Edition for the Jeep Gladiator
Decades of audio engineering expertise have equipped our team to deliver a package that truly delivers high fidelity sound unlike anything in the aftermarket that is pieced together. All components found in the Signature Edition are O.E. grade - Which means they are reliable, fit perfectly, and require no modifications to your vehicle. No aspect of the System is "off-the-shelf."  The system components are tailored specifically to each other and the vehicle. Leaving no guesswork
We are proud to offer a Sound Solution that integrates seamlessly with the factory electronics, provides next-level clarity, dynamics, and loudness. Most manufacturers build products for themselves. On the contrary, it is our relentless commitment to create Solutions made specifically for the Jeep and Jeep owner.
We are proud to offer a Sound Solution that integrates seamlessly with the factory electronics, provides next-level clarity, dynamics, and loudness. Most manufacturers build products for themselves. On the contrary, it is our relentless commitment to create Solutions made specifically for the Jeep and Jeep owner.
It sounds unbelievable. Really what I was impressed with was the placement of the front stage. The vocals and the strings can clearly be pulled out of the music.
The staging was amazing! It is all in front of you.  It sounded amazing and I didn't hear the interior rattle at any point even at max volume.
The imaging is on point.  It sounds really good. You can blast it all the way and it sounds crisp and clean, and then you can have it at a lower setting and it's just super clear.
It was crisp, clear, and no dropouts at all. I am super impressed with it. 
Amplification Package
Next-level sound reproduction. No trade-offs.
The Signature Edition brings a whole new class of sonic performance to the Jeep. Thanks to our advanced amplification, the built-in 64-bit Digital Signal Processing power, and zero-compromise operation accomplished by the Integration Interface Module — the Signature Edition delivers double the power of the factory system and more performance than any of our other offerings. So whether you're listening to a podcast or your favorite album, you will experience your content with unrivaled sound reproduction and plenty of headroom. On higher level recordings, the system can reach over 100 dB of output, staying totally under control while the clarity of the system delivers every nuance and detail of the music.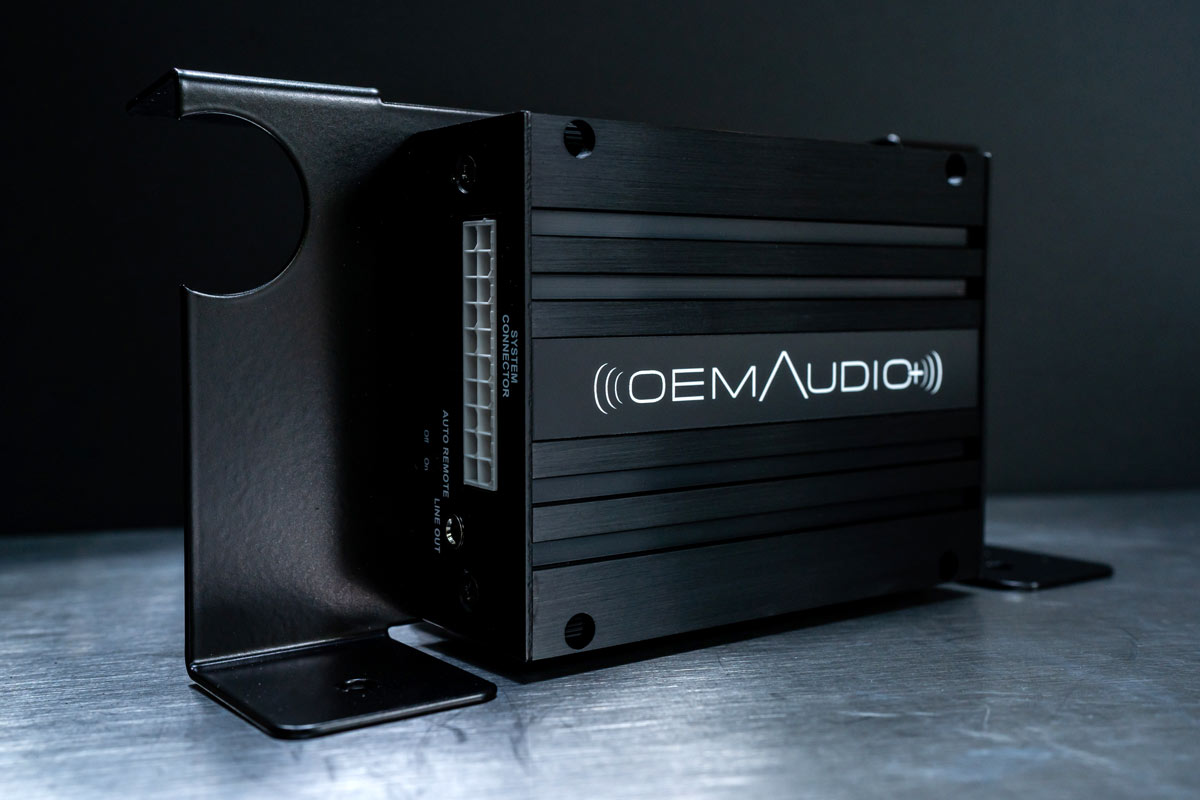 MULTI-CHANNEL POWER AMPLIFIER
Highly efficient Class HD amplifier
Superior dynamics, volume, and impact
60W x 4 RMS (Continuous / @ 4-ohms)
Huge power in a tiny package (600W RMS Total System Power)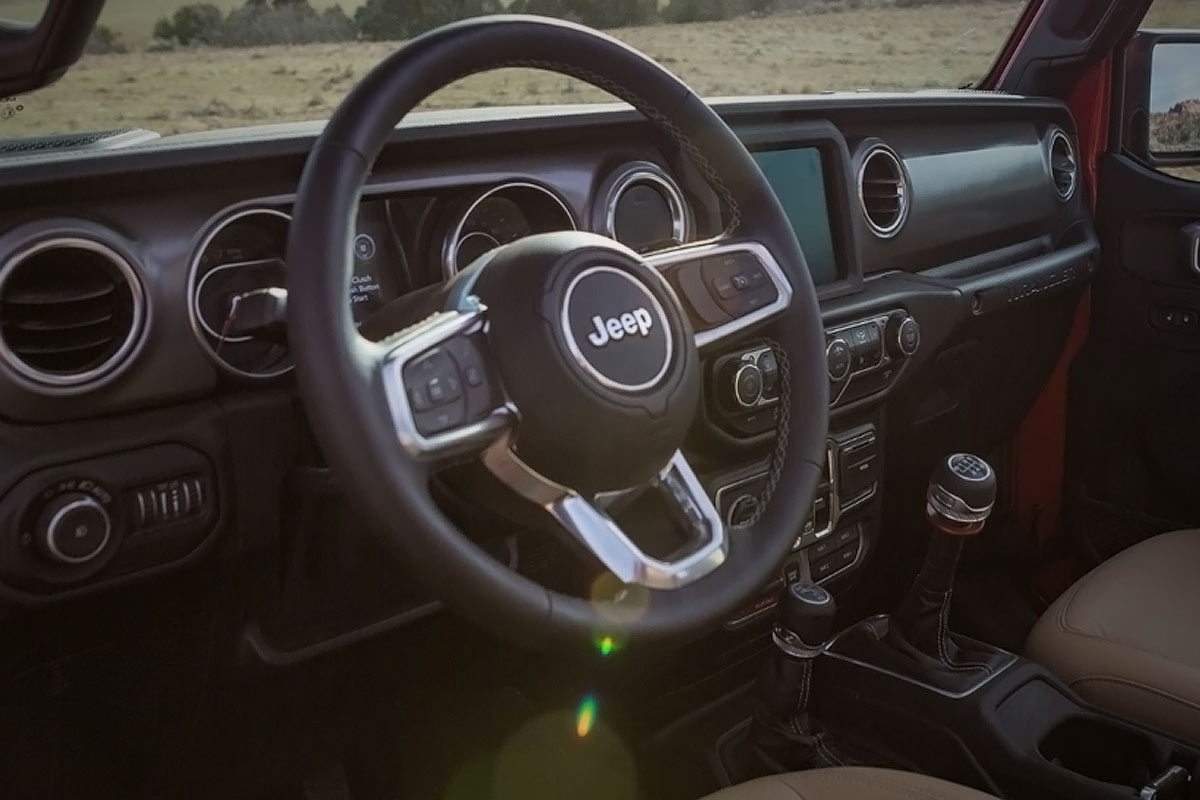 64-BIT DSP + SIGNATURE TUNING
Calibrated to deliver high-resolution audio 
Extremely powerful 64 bit processing power and sound optimization
295 MHz DSP Chip | Class HD Topology
Full Digital: Optical Toslink SPDIF Connectivity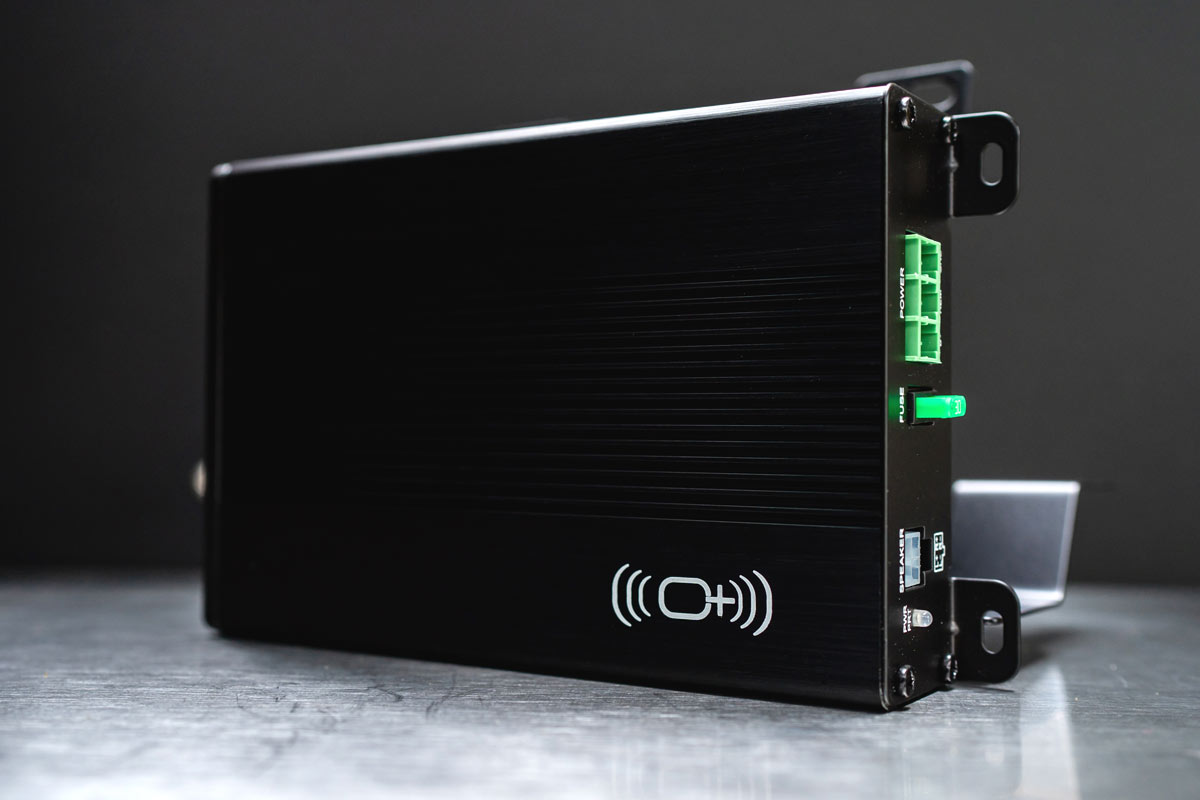 DEDICATED SUBWOOFER AMPLIFIER
Provides additional headroom, more effortless performance and added control by way of our Subwoofer gain control knob.
360W RMS (Continuous / @ 4-ohms) 
Integrated all together in one assembly for ease of installation.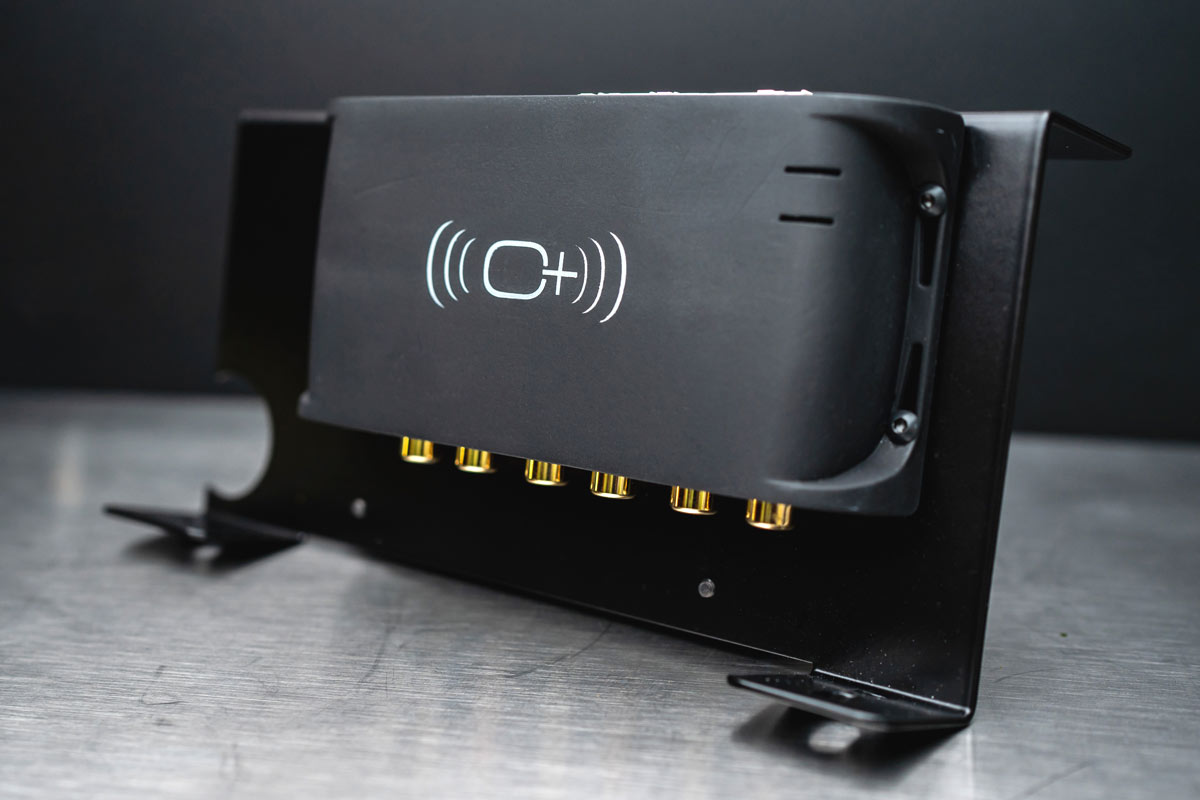 INTEGRATION INTERFACE MODULE
 Enables installation of the Signature Edition Amplifier Package while retaining the factory steering wheel control functions and maintaining the functionality of the factory CAN-Bus system
Set it and forget it: Installs seamlessly under the steering column
Plug-and-Play
No splicing, no cutting, no guesswork
.
All the essentials necessary have been taken into account to create a system that installs seamlessly without compromising the integrity of the vehicle. We engineered the installation to be seamless, intuitive, and fun. Our Quick-Sync Wiring Harness is designed to ensure perfect connectivity, lengths, and ease of installation. Made with O.E. grade wire and connectors that meet or exceed the car manufacturer's requirements resulting in immediate results and long-term reliability.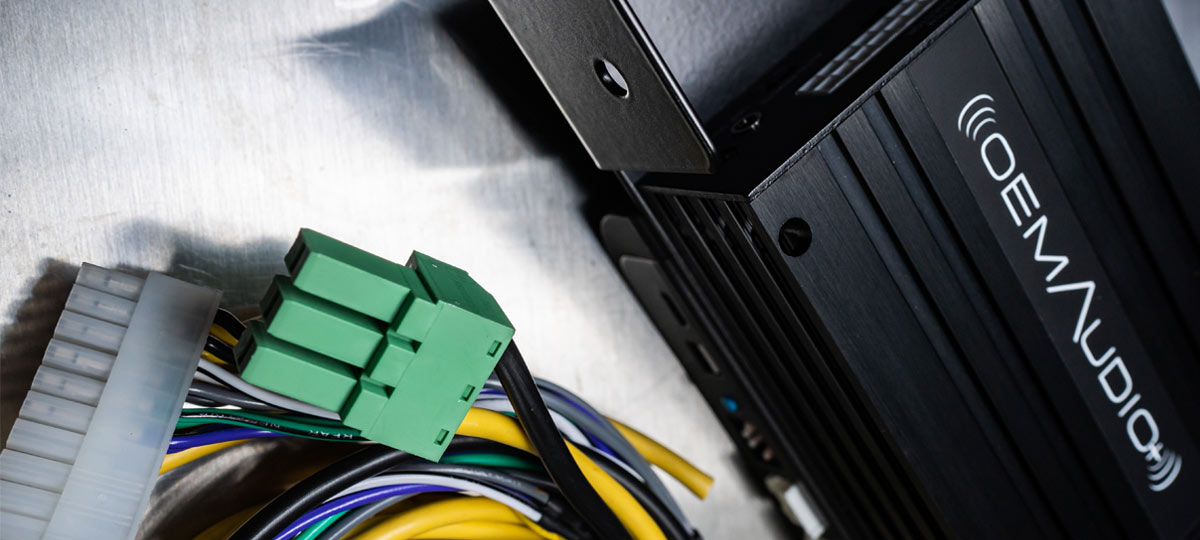 Gladiator-Specific Subwoofer System.
The Signature Edition Subwoofer System delivers deep, accurate, and impactful bass as intended by the recording artist. You can expect full, and immersive low-frequency extension carrying all the emotional weight of your music, but without localization or compromising clarity. The Signature Edition 10" Subwoofer System accomplishes more moving mass, thus a very dynamic sound reproduction with plenty of range and an overall more bass response. 
We have taken into account all aspects of the factory audio system and designed the Signature Edition subwoofer cabinet specifically for the Gladiator. Utilizing factory hardware locations to ensure all low-frequency impact is delivered and no loss of under-seat storage area-frequency proper factory fit which allows full use of existing cargo area. This attention to detail ensures that there are no trade-offs to vehicle utility, no distracting rattles are introduced, all the while delivering superior bass response carrying the emotional weight of your music. 
10″ Single Voice-Coil Subwoofer

150W RMS (300 Peak)

Sensitivity 86.2dB (1 W,1M)
Frequency Response: 35 -500 Hz
27-Liter sealed fiberglass cabinet 

Drops into behind-the-seat storage and mounts using factory hardware locations for deep bass response. 
Signature Edition Speaker Upgrades
The Signature Edition Speakers deliver superior dynamics, blending and low-frequency response. Our speakers were honed out of a rigid performance criteria akin to how high-end audio loudspeakers are designed. We have the advantage of not only engineering our components for each other, but also specifically with the Jeep interior in mind. This results in seamless, full-range, detailed sound reproduction of instruments and voices without localizing the speakers - a trait commonly associated with fine high-end home audio speakers. Prepare yourself for bigger-than-life sound stage.
1" SOFT DOME TWEETERS
Dramatically enhances music's clarity and detail
Accurate fitment and superior acoustic reproduction.
Installs utilizing factory connector
Built-in 6db/Oct. High Pass Filter
Neodymium Magnet Structure
4-ohms w/1.5kHz Resonance Frequency
1st order in-line filter (8kHz) when matched w/ our 4" Full Range
4" FULL-RANGE SPEAKERS
4-Inch wideband resulting in a seamless, transparent, and detailed reproduction of source material.
Optimized for factory Jeep vented speaker enclosures w/port tuned to 48Hz!
Designed to compliment our 1" Soft Dome Tweeter
Drop-In speaker replacement (same mounting + connector)
Fiber cone material for optimal performance
EARLY ADOPTER PRICING APPLIED
LIMITED TIME AND QUANTITY ALLOCATED
Signature Edition | Jeep Gladiator
EARLY ADOPTER PRICING APPLIED
Multi-Channel Power Amplifier (Class HD)

64-Bit Digital Signal Processor (Tuned)

Integration Interface Module

1″ Soft Dome Tweeters (4)

4″ Wideband Speakers (4)

Gladiator Subwoofer System (10″)

Dedicated Subwoofer Amplifier w/ Control knob

Quick-Sync Wiring Harness
Questions? Contact our team by phone: 855-636-6346 or send a message below
We not only guarantee the quality and reliability of every O+ Solution, we are confident you will not find a better sound experience for the money.