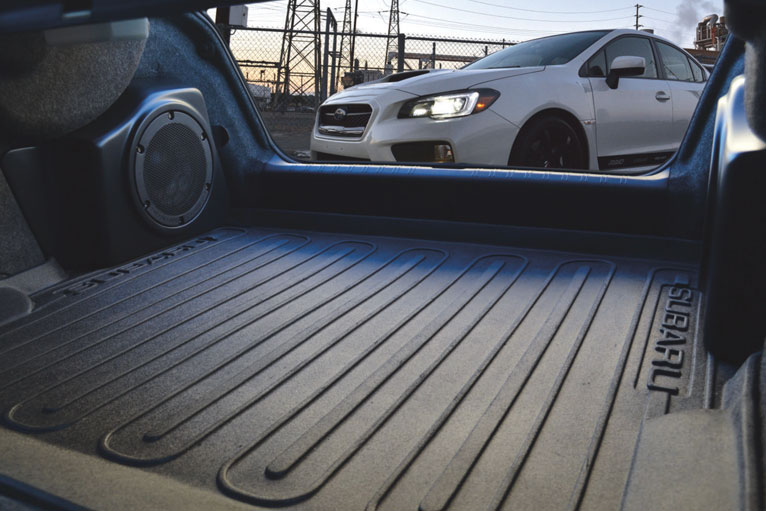 FEATURES:
Designed specifically for the '15-Present WRX / STi
Vehicle undergoes extensive acoustic measuring (using proprietary six microphone array)
Tuned exclusively for the vehicle acoustics of the WRX / STi
Optimized for all vehicle factory radios and most aftermarket options
Plug and Play Installation (D.I.Y.)
No splicing, drilling of holes or customization of body panels for installation.
Vehicle factory warranty remains completely intact.
WRX / STi Specific Subwoofer System.
Enjoy deep, non-localized bass response - without  losing your trunk.
The OEM Audio Plus subwoofer system for the Subaru WRX / STI delivers deep, non-localized bass reproduction that is impactful and accurate. Subwoofer system utilizes existing hardware locations for secure and intuitive mounting.
8″ Dual Voice-Coil Woofer
Genuine Carbon Fiber Cone Woofer
100W RMS (200 Peak)
Sensitivity 88.9dB (1 W,1M)
Frequency Response: 20 -1000 Hz
14 Liter Sealed Fiberglass Enclosure
Tailored minimalist design
Weighing in at 11.1lbs / 5.05kg
Mounts utilizing existing hardware locations
An ensemble vs "parts"
E
ngineered specifically to perform 
together
.
By optimizing our sound solutions as "Systems" as opposed to "parts" we are able to take sound reproduction within this space to a level that hasn't been done before - all the while performing real-time diagnosis via our Digital Signal Processor. This level of scrutiny and control results in a powerful experience without fear of blowing a speaker, taxing your vehicle battery, inducing distortion or any other type of variable that may interrupt your enjoyment. 
Amplification
Clean, unadulterated, undistorted power
Multi-Channel 32-Bit DSP Power Amplifier
360 Watts RMS (Continuous / @ 2-ohms)
Cirrus-Logic 32-Bit Digital Signal Processing
Real-time system diagnosis for trouble-free operation
Meets all OEM standards including AEC-Q100
Why "OEM"?: Certified performance and operation for the life of your vehicle.
Signature Tuning
Converts analog signals into digital signals by way of four analog- to-digital (A/D) converters.
D/A converters and DSP will maintain signal integrity and precision adjustment not possible with an analog signal.
Clean, clear and crisp sound  achieved without requiring a massive power amplifier (via DSP).

Plug and Play
No splicing, no cutting, no guesswork
.
We carefully took into consideration all the essentials necessary to create a system capable of reproducing a very high degree of detail, transparency and dynamics without compromising the integrity of the vehicle. Therefore we engineered the installation to be seamless, intuitive and fun. Everything was considered when designing Our Quick-Sync Wiring Harness.  Learn More ►
Sound Solutions
Choose the system that is perfect for you. Can't handle the pressure? Give us a call and we'll personalize your experience: 855-636-6346
System 500
Multi-Channel Power Amplifier

32-bit Digital Signal Processor

Front 1″ Soft Dome Tweeters

Front 5.25" 2-Way Coaxial Speakers (optional)

Rear 5.25" 2-Way Coaxial Speakers (optional)

WRX/STi-Specific Subwoofer System

Dedicated Sub Amplifier

Gain Control Knob

Quick-Sync "Plug & Play" Wiring Harness
We not only guarantee the quality and reliability of every OEM Audio Plus sound system, we are confident you will not find a better sound experience for the money.