FEATURES:
Designed from the ground up specifically for the 2nd Generation Tacoma Access Cab ('05-15)
Vehicle has undergone extensive acoustic measuring (using proprietary six microphone array)
Tuned exclusively for the vehicle acoustics of the Tacoma
Optimized for all vehicle factory radios and most aftermarket options
Plug and Play Installation (D.I.Y.)
Vehicle factory warranty remains completely intact.
An ensemble vs "parts"
E
ngineered specifically to perform 
together
.
By optimizing our sound solutions as "Systems" as opposed to "parts" we are able to take sound reproduction within this space to a level that hasn't been done before - all the while performing real-time diagnosis via our Digital Signal Processor. This level of scrutiny and control results in a powerful experience without fear of blowing a speaker, taxing your vehicle battery, inducing distortion or any other type of variable that may interrupt your enjoyment. 
FRONT 1" SOFT DOME TWEETER
Dramatically enhances music's clarity and detail
Designed specific to Tacoma for both accurate fitment and superior acoustic reproduction.
Installs utilizing factory connector
Built-in 6db/Oct. High Pass Filter
Neodymium Magnet Structure
FRONT 6 x 9" WOOFER
Provides ever-present bass without impeding vocals
Designed to compliment our 1" Soft Dome Tweeter
Drop-In speaker replacement (same mounting + connector)
Carbon Fiber cone material for optimal performance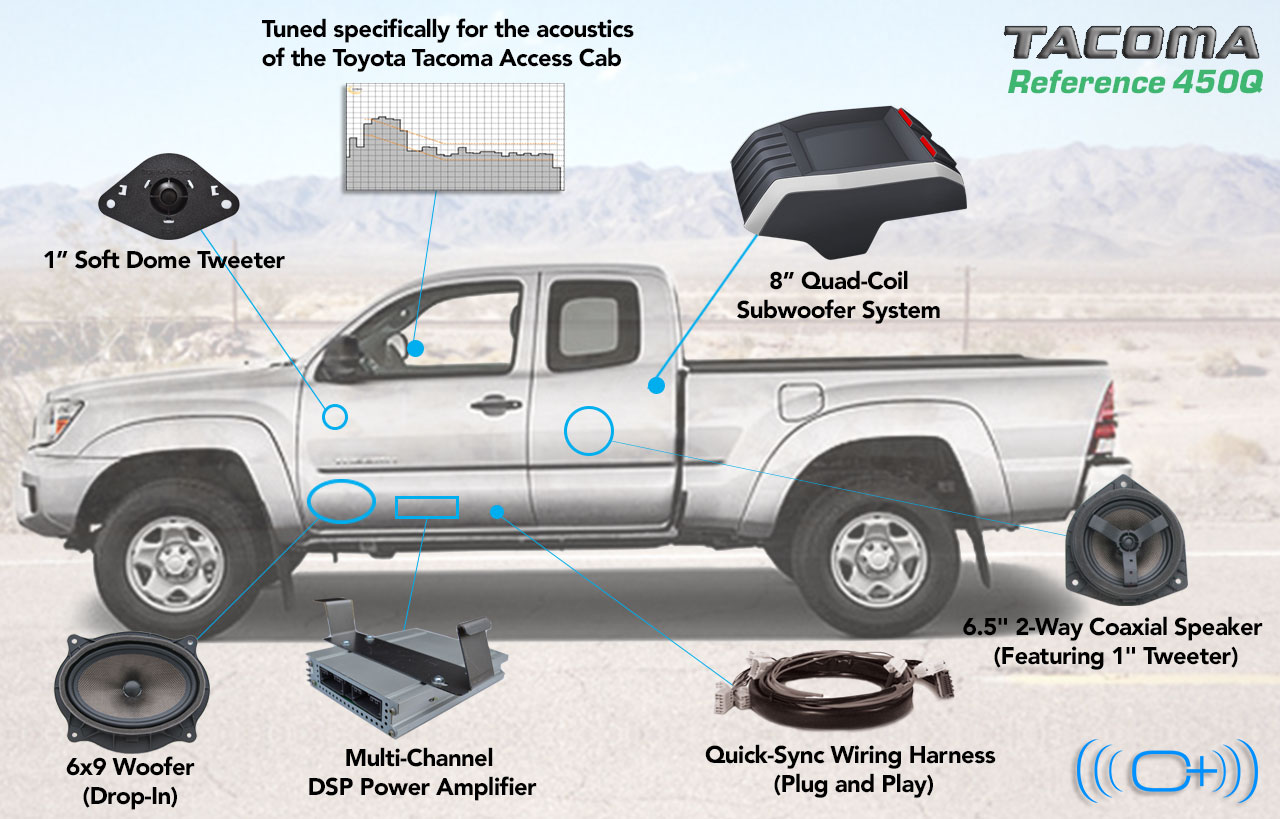 Amplification
Clean, unadulterated, undistorted power
Multi-Channel 32-Bit DSP Power Amplifier
360 Watts RMS (Continuous / @ 2-ohms)
Cirrus-Logic 32-Bit Digital Signal Processing
Real-time system diagnosis for trouble-free operation
Meets all OEM standards including AEC-Q100
Certified performance and operation for the life of your vehicle.
Signature Tuning
Converts analog signals into digital signals by way of four analog- to-digital (A/D) converters.
D/A converters and DSP maintain signal integrity and precision adjustment not possible with an analog signal.
Clean, clear and crisp sound achieved without requiring a massive power amplifier.
Access Cab-Specific Subwoofer System.
Enjoy deep, non-localized low frequency reproduction.
The OEM Audio Plus subwoofer system shares a range of sound with the Front 6 x 9″ Woofer, creating a more dramatic effect by delivering ever-present bass without impeding your musics clarity and detail. Subwoofer design is tailored specific for the 2005-2015 Tacoma (Access Cab) installing seamlessly using existing mounting hardware locations between the rear jumps seats.

Plug and Play
No splicing, no cutting, no guesswork
.
We carefully took into consideration all the essentials necessary to create a system capable of reproducing a very high degree of detail, transparency and dynamics without compromising the integrity of the vehicle. Therefore we engineered the installation to be seamless, intuitive and fun. Everything was considered when designing Our Quick-Sync Wiring Harness.  Learn More ►
Personalize your experience
Feel free to give us a call if you have any questions or requests: 855-636-6346
System 500 | Access Cab
32-Bit Digital Signal Processor

O+ Signature Sound Reproduction

Multi-Channel Power Amplifier

Access Cab-Specific 8″ Subwoofer System

Quick-Sync Wiring Harness
Reference 500 | Access Cab
32-Bit Digital Signal Processor

O+ Signature Sound Reproduction

Multi-Channel Power Amplifier

Access Cab-Specific 8″ Subwoofer System

Quick-Sync Wiring Harness

Front 1″ Soft Dome Tweeter

Front 6″ x 9″ Carbon Fiber Woofer

Rear 6.5″ 2-way Coaxial Carbon Speakers (featuring 1″ Tweeter)
Questions or Requests?
*We not only guarantee the quality and reliability of every OEM Audio Plus sound system, we are confident you will not find a better sound experience for the money.
Having watched the installation video, the installation went extremely well and was very easy.
The sound is fantastic and exactly what I was looking for. The speakers so much better. At one point in my install all I had done was swap out the rears and the dash tweeters and had to stop due to weather. I could hear a huge difference in the tweeters already. Prior, I could often max my volume and wish there was more. Now I'm happy in the 40-45 range and the sound is just incredible. The sound is so crisp, the mids just punch you, and the bass is great. It won't blow out your windows but it will shake your rear view mirror. The sound is so much better.
If you are looking for more volume and better sound and thinking about this system as an option, do it. You won't be disappointed. The ease of installation, and the final product you get to listen to is just great! You'll find yourself going for rides just to listen to it.
First off the install went amazingly well. It took me about 10 hrs. But I took extra time just to make sure everything was done right. The youtube video was absolutely key. The poorly printed paperwork that came with the parts was really no help at all. You guys did an amazing job with the video. The best part was it was for my exact vehicle. It wasn't a "one size fits all". That I really appreciated. Now lets talk sound - Wow - it is very good. It makes whatever I'm listening to come alive. It's just fun to have a sound system that makes you want to go out and drive around. Thank you for doing a great job with the whole sound system, but mostly for the great support.