Lead Times Are Estimations
Each of our Sound Solutions is made specifically for you based on your provided configuration notes when submitting your order. None of our products are mass-produced. All lead times are estimates and rely on various factors. We are currently experiencing high demand, and longer-than-usual lead times as many companies are within our industry. Our team is actively working to ensure that the wait is minimal and that the results of what is delivered are unmatched. Our job is not complete until your System is delivered and performing as intended.
If you have questions about your lead times, please check the estimated lead-time on each product page and/or in your order notes. If you have additional questions, please reach out to our team via email or by phone. It is our mission to provide transparent and prompt communication. Thank you again for your continued support and patience.
Common Questions. Answers Given.
Do you make product for other cars?
Who performs the Install?
90% of our owners perform the installation themselves (and/or with the help of friends/family). We pride ourselves in creating plug and play solutions that we believe anyone can install. Please review our installation videos – As found on our installation page. Be mindful of essential tools necessary to complete installation.
Not wanting to perform the install yourself, we understand. Contact us to find an installer in your area or get us involved in finding an installer in your area that can assist. 
Install time?
Our systems have all been proven to be installed in 3 to 5 hours.
Warranty?
All OEM Audio Plus components meet OEM specifications and include 3 year/36,000 mile warranty whether installed by an Authorized Dealer or if you opt to Do It Yourself. Factory Warranty is not affected if installation is followed according to OEM Audio Plus installation guidelines.
Does it work with aftermarket radios?
Yes! Our products are calibrated for optimal performance using your factory or aftermarket head unit. We tune each sound solutions specifically to the output characteristics of YOUR head unit – so be sure to let us know which radio you have when ordering.
Can I buy the sub separately?
At this time we do not sell our subwoofers separately. This is because O+ specializes in delivering GUARANTEED results in terms of installation, sound and reliability (a promise we can only guarantee with our close-loop packages designed, engineered and tuned for each specific vehicle).
I'd like to build my system over time. Is that an option?
Yes! In most all cases, we can deliver your audio upgrade in stages to fit your time frame. Additionally, we can almost always do this at no increased cost to you! Build away!
Is the speaker upgrade an excellent way to start building my system?
Yes, the speaker upgrades make a dramatic difference in quality. You will notice extended and smooth high frequencies, more present midrange, and improved low-frequency output. In addition, our speakers feature carbon fiber cones and soft dome tweeters, have built-in rain guards, and include front/rear sealing foam already installed for a perfect fit and high-performance results.
.
My friend has an OEM Audio Plus system, and it sounds excellent and looks stealthy. How did you do it?
Our team has decades of experience designing high-quality systems with exceptional performance. We choose materials with care, fitment is assured, and installation is simple. So when you upgrade your audio with OEM Audio Plus, you get a system that is much more than the sum of its parts. You are also benefiting from many hours of measurements, research and development, prototyping, and system tuning that goes into every system we produce. The tuning alone is worth the cost of the system!
Installation Instructions?
You will find the most up-to-date Installation Content on the Install Section of the website. 
Different Amplifier Connector
Please Select Your Generation Amplifier Below for Connectivity Instructions:
Two Power Wires?
Our New Harnesses are made for scalability.
If you're performing our single Multi-Channel DSP Power Amplifier, you will be using the power wire labeled "A".
The "B" power wire is for our Dedicated Subwoofer Amplifier option (SP). Our recommendation is to run both power wires all the way to the battery, but only connect the power wire labeled "A".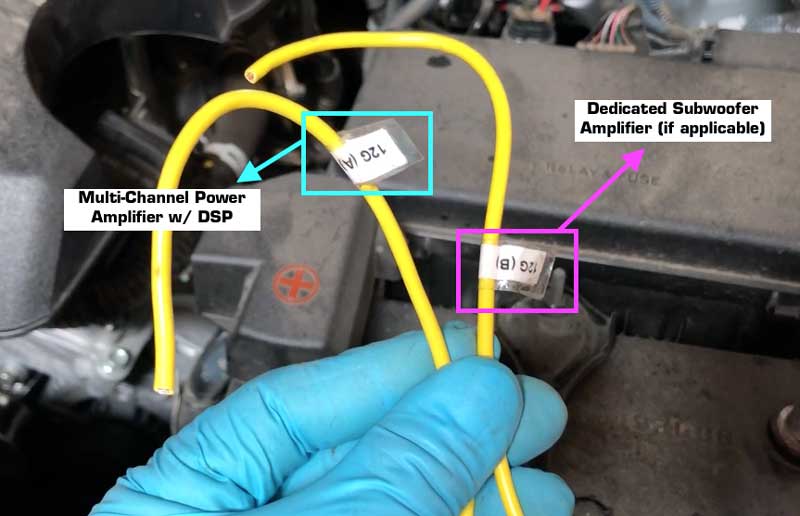 6x9 Woofer Magnet Size?
You'll notice that our New Front 6×9 Woofers (32-2015) have what is perceived to be a "smaller" magnet. The good news is you received the correct product and it exceeds the performance of it's predecessor (as seen in our installation video). You have received our New 6×9 Woofer (32-2015) featuring Neodymium Magnet(s). This upgraded magnet affords us better magnetic density with higher power saturation limits and performance versus the traditional magnet, only lighter and a smaller footprint when it comes to installation (eliminating the need to use spacers to clear the window assembly on some installations).
JBL, Alpine or Harman Kardon?
In most cases, the radio and the front speaker grilles will have brand specific badging. Also, the subwoofer grille or enclosure area will have a badge in many cases.
I have a heavily modified vehicle with a loud exhaust and a removable soft top. Will I be able to crank it on the highway?
OEM Audio Plus systems are designed and executed to represent a significant upgrade over the factory-delivered audio system. That said, if the modifications you have performed have significantly increased the ambient noise of the vehicle, especially at higher speeds, you may need more output than our system provides. We want you to be thrilled with your system, so don't hesitate to contact us to discuss your needs!
Is this system truly plug-and-play? And can I install it myself?
Yes! The engineers at OEM Audio Plus have gone to great lengths to ensure your system integrates seamlessly into the vehicle. Our factory-match connectors assure clean and straightforward connections, and we design them for use behind the factory radio, at the amplifier(s), and in every speaker connection. Wiring can be daunting, and we've taken care of that for you! The remaining parts of the installation are mainly removing and replacing interior panels.
What tools do I need to perform the installation?
In most instances, essential hand tools are all that is required. No special tools are needed. If you have a battery-powered drill/driver, that may reduce the necessary time and effort.
Here's a list of the most common items needed:
Plastic panel removal tools (available at most auto parts stores, tool stores, and online)
10mm and 14mm wrench or socket with rachet and extension(s)
10mm wrench
Phillips screwdriver, or battery-operated driver with Phillips tips
Diagonal wire cutters
Small pick tool
Wire strippers for up to 10 AWG wire
Wire crimper tool
Will this audio upgrade put any undue strain on my vehicle's electrical system?
Our audio systems will not strain your electrical system. We carefully engineer our components to extract maximum performance while drawing minimal current. As a result, our amplifiers are among the most efficient in use today and turn over 90% of the incoming power into music!
Turn up the volume on your ride.
Turn the dial to select your vehicle make.