2010-Present Toyota Sienna XSE Evolution Series
MADE-TO-ORDER 
We are proud to offer our signature sound reproduction and seamless integration to Toyota Sienna Owners. The Evolution Series  is designed specifically for the owners with the factory JBL audio package. This Solution is the perfect upgrade to add a dramatic improvement in clarity, headroom, finely tuned sound stage, and impact to your overall listening experience.
FEATURES:
Designed and tuned specifically for the Toyota Sienna
Complete Plug-and-Play Installation
Vehicle factory warranty remains completely intact
Subwoofer setup utilizing factory JBL subwoofer enclosure, so it looks 100% stock and you lose zero cargo space.
Kit Contents:
Multi-Channel Power Amplifier
Pre-calibrated Digital Signal Processor
Integration Interface Module
Quick-Sync Wiring Harness w/ Optical Cable
Upgraded Subwoofer for Factory Enclosure
Specifications
MULTI-CHANNEL 64-BIT DSP POWER AMPLIFIER
Powers & Remasters All Speakers + Subwoofer
390 Watts RMS (Continuous / @ 2-ohms)
64-bit/295 MHz DSP Chip
Class HD topology
QUICK-SYNC WIRING HARNESS
Maintains all factory functionality
Constructed of genuine OEM connectors
Fuse Holder Assembly is element proof butt-connectors w/ built-in solder
< 4lbs / 1.8kg
INTEGRATION INTERFACE MODULE
Enables installation of the Evolution Series Amplifier Package while retaining all factory functionality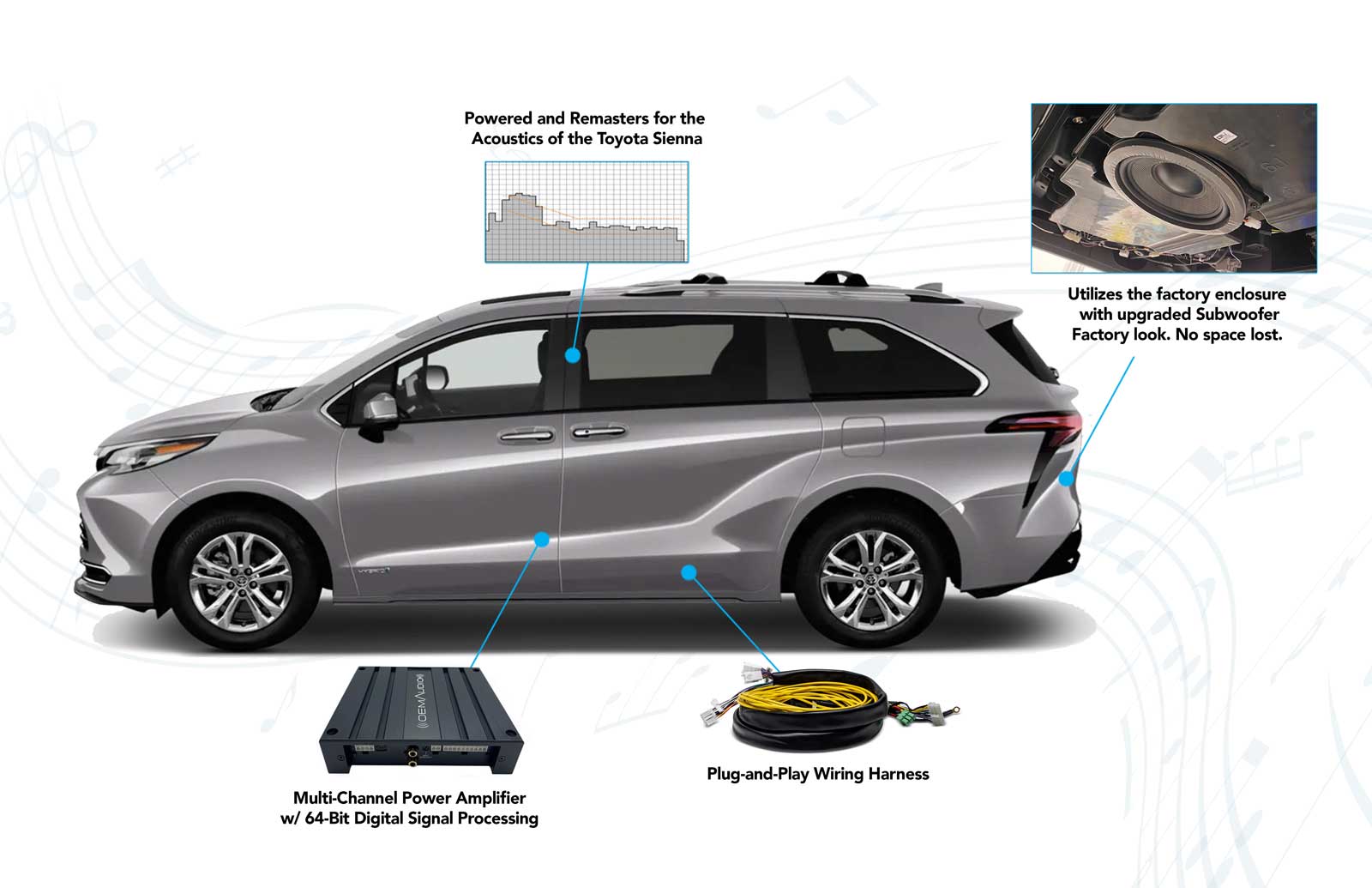 The Evolution Series wrings a whole new class of sonic performance to the Sienna. Thanks to advanced amplification of each speaker, the built-in 64-bits of processing power, and zero-compromise operation accomplished by the Integration Interface Module — the Signature Edition delivers up to 20% more performance of Reference Series Solutions.
We invested several hundred hours of acoustic tuning to deliver our clean, crisp and clear signature sound. This is electronically programmed into our DSP amplifier, ensuring our owners consistent listening enjoyment throughout the lifetime of their ownership.
Amplification
• Powers & Remasters All Speakers + Subwoofer
• 390 Watts RMS (Continuous / @ 2-ohms)
• 64-bit/295 MHz DSP Chip
• Class HD topology
Subwoofer
8″ Quad Voice-Coil Subwoofer
Genuine Carbon Fiber Cone Woofer
100W RMS (200 Peak)
Sensitivity 88.9dB (1 W,1M)
Frequency Response: 20 -1000 Hz
It sounds unbelievable. Really what I was impressed with was the placement of the front stage. The vocals and the strings can clearly be pulled out of the music