Tacoma DBL Cab w/ JBL (2016-2023)
FOR OWNERS WITH JBL AUDIO SYSTEMS ONLY (not base audio). The systems on this page are applicable only to vehicles WITH factory JBL audio.
The Evolution Series (formally referred to as the "Signature Edition") is designed and tuned specifically for the Toyota Tacoma with factory JBL. This solution is guaranteed to deliver unmatched sound reproduction, seamless integration, and uncompromising reliability. You can expect unparalleled clarity, loudness, and deep bass response without impeding vocals, the moment you plug your Evolution Series solution in.
After years of evaluation and development, we have prepared a completely different Sound Solution than we have ever offered before. No aspect of the core of this System is "off-the-shelf". Our engineers have taken all variables of the factory JBL infrastructure into full consideration, and are authentically stoked with the results!
We are proud to offer a Solution that integrates seamlessly with the factory JBL CAN-Bus network, provides next-level clarity, dynamics, and loudness, and features a Subwoofer System that does not compromise usable space, yet delivers immersive bass response without introducing distracting rattles.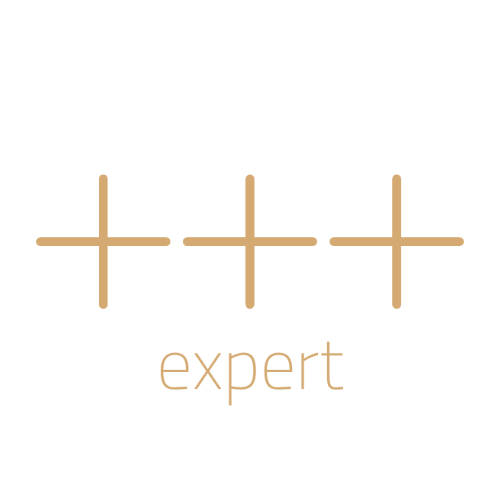 Evolution Series
Amplifiers, Speakers, & Subwoofer
Limited Stock Available! Reach out to us at support@oemaudioplus.com for more information.
Kit Includes
Multi-Channel Power Amplifier
Pre-calibrated Digital Signal Processor
Integration Interface Module
Quick-Sync Wiring Harness w/ Optical Cable
Tacoma-Specific Subwoofer System
Dedicated Subwoofer Amplifier
Front 1″ Soft Dome Tweeter
Front 6″ x 9″ Carbon Fiber Woofer
Rear 6.5″ 2-way Coaxial Carbon Speakers (featuring 1″ Tweeter)
Specifications
MULTI-CHANNEL 64-BIT DSP POWER AMPLIFIER
Powers & Remasters All Speakers + Subwoofer
390 Watts RMS (Continuous / @ 2-ohms)

2 x 55 – Front Tweeters
2 x 70 – Front Door 6 x 9
2 x 70 – Rear Door Coaxial

64-bit/295 MHz DSP Chip
Class HD topology
INTEGRATION INTERFACE MODULE
Enables installation of the Signature Edition Amplifier Package while retaining all factory functionality
QUICK-SYNC WIRING HARNESS
Maintains all factory functionality
Constructed of genuine OEM connectors
Fuse Holder Assembly is element proof butt-connectors w/ built-in solder
< 4lbs / 1.8kg
TACOMA SUBWOOFER SYSTEM
8″ Quad Voice-Coil Subwoofer
Genuine Carbon Fiber Cone Woofer
100W RMS (200 Peak)
Sensitivity 88.9dB (1 W,1M)
Frequency Response: 20 -1000 Hz
DEDICATED SUBWOOFER AMPLIFIER
Adds More Headroom + Low-Frequency Extension
300 Watts RMS
Class D (95% efficient)
Includes Gain Control Knob for precision adjustability
---
REFERENCE SPEAKERS (OPTIONAL):
FRONT 1″ SOFT DOME TWEETER
Silk soft dome
4-ohms
50W RMS (100 Peak)
Sensitivity 91.8 dB (1 W,1M)
Frequency Response: 3,000-20,000 Hz
Built-in 6db/Oct. High Pass Filter
Neodymium Magnet Structure
FRONT 6″ X 9″ WOOFER
Carbon Fiber Cone Woofer
2-ohms
50W RMS (100 Peak)
Sensitivity 90.2 dB (1 W,1M)
Frequency Response: 50-12,000 Hz
Neodymium Magnet Structure
REAR 6.5″ 2-WAY COAXIAL SPEAKERS
Featuring 1″ Tweeter
Carbon Fiber Cone Woofer
2-ohms
50W RMS (100 Peak)
Sensitivity 90.2 dB (1 W,1M)
Frequency Response: 55-20,000 Hz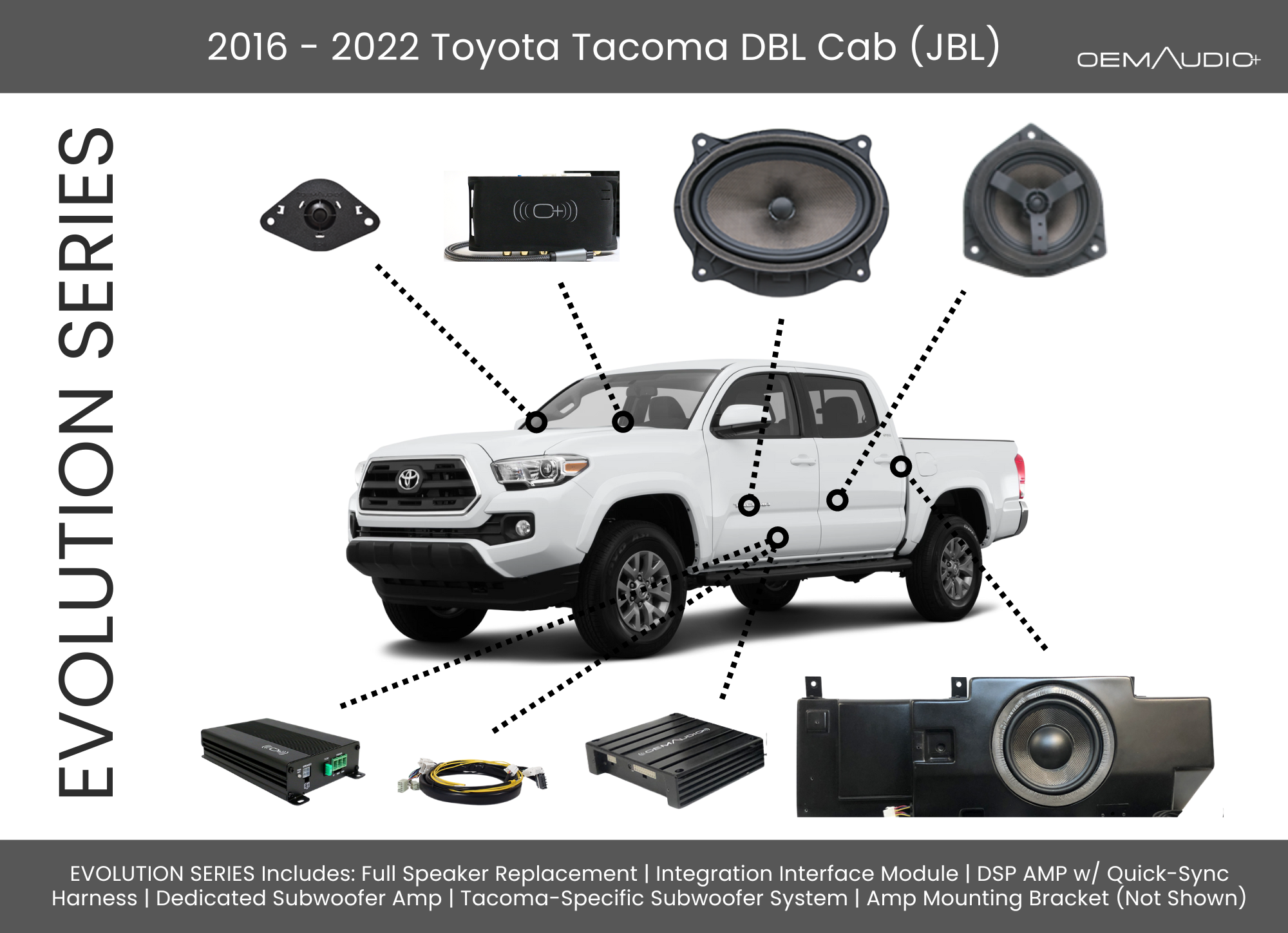 Speakers
• Superior dynamics, volume, and impact
• Engineered for the perfect fit
• Rigid performance criteria
Subwoofer
All the emotional weight of your music
14-liter sealed fiberglass cabinet
Installs seamlessly into rear storage area
Amplification
Highly efficient Class HD Speaker Amplifier
• Superior dynamics, volume, and impact
• 60W x 4 RMS (Continuous / @ 4-ohms)
Subwoofer Amplifier
• Subwoofer gain control knob.
• 360 Watts RMS (Continuous / @ 4-ohms)
64-Bit Digital Signal Processing
• Calibrated to deliver high-resolution audio upon plug in.
• Extremely powerful 64 bit processing power and sound optimization
• 295 MHz DSP Chip | Class HD Topology
• Full Digital: Optical Toslink SPDIF Connectivity
Next-level sound reproduction. No trade-offs.
The Evolution Series brings a whole new class of sonic performance to the Tacoma. Thanks to our advanced amplification, the built-in 64-bit Digital Signal Processing power, and zero-compromise operation accomplished by the Integration Interface Module — the Evolution Series delivers double the power of the factory system and 20%+ more performance than the Reference Series Solutions. So whether you're listening to a podcast or your favorite album, you will experience your content with unrivaled sound reproduction and plenty of headroom.

Tacoma-Specific Subwoofer System.
The Evolution Series Subwoofer System delivers deep, accurate, and impactful bass as intended by the recording artist. You can expect full, and immersive low-frequency extension carrying all the emotional weight of your music, but without localization or compromising clarity. Being fixed to the vehicle chassis (using factory hardware locations) you will experience a very dynamic sound reproduction with plenty of range and an overall more bass response.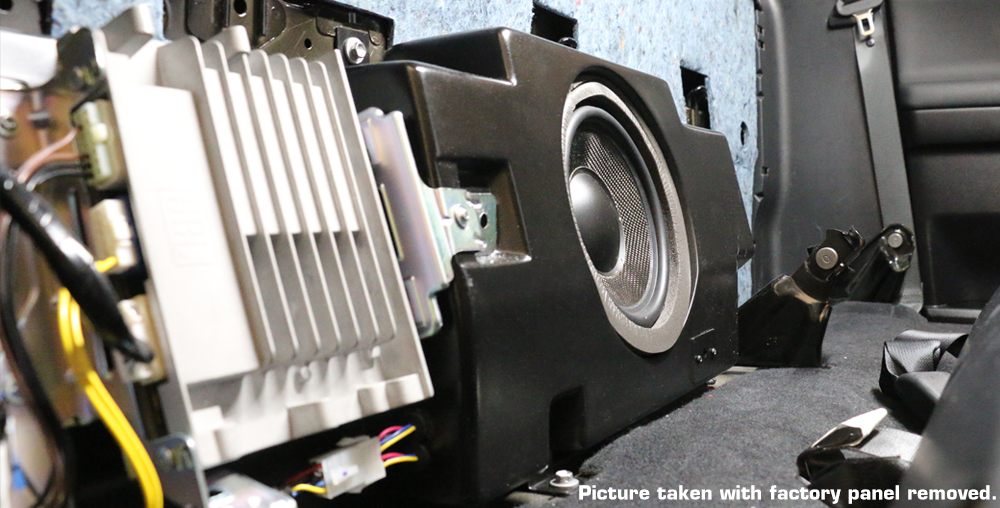 It sounds unbelievable. Really what I was impressed with was the placement of the front stage. The vocals and the strings can clearly be pulled out of the music