FEATURES:
Designed and tuned 

specifically

for the Toyota 4Runner
Pre-tuned EQ: High fidelity sound the moment you plug it in
4Runner-Specific Subwoofer System (2-Row and 3-Row seating)
Complete Speaker Replacement Option
Plug and Play Installation
Vehicle factory warranty remains completely intact
E
ngineered specifically to perform 

together

.

Our speakers were honed out of a rigid performance criteria akin to how high-end audio loudspeakers are designed. This level of design and engineering allows us to replace the stock speakers with complete drop-in speaker replacements that deliver seamless, full-range, detailed sound reproduction of instruments and voices without localizing the speakers - a trait commonly associated with fine high-end home audio speakers.
FRONT 1" SOFT DOME TWEETER
Dramatically enhances music's clarity and detail
Designed specific to 4Runner for both accurate fitment and superior acoustic reproduction.
Installs utilizing factory connector
Built-in 6db/Oct. High Pass Filter
Neodymium Magnet Structure
FRONT 6 x 9" WOOFER
Engineered

specifically

for the 4Runner!!
Provides ever-present bass without impeding vocals
Designed to compliment our 1" Soft Dome Tweeter
Drop-In speaker replacement (same mounting + connector)
Carbon Fiber cone material for optimal performance
REAR 6.5" 2-WAY COAXIAL SPEAKER 
Adds four speakers to 4Runner sound reproduction: Rear Doors (2) + Rear Hatch (2)
Tonally matched to the front speakers; providing seamless reinforcement for every listener.
Featuring Our 1" Soft Dome Tweeter
Genuine Carbon Fiber Cone
Drop-in replacement (same mounting and connector as factory)
Amplification
Clean, unadulterated, undistorted power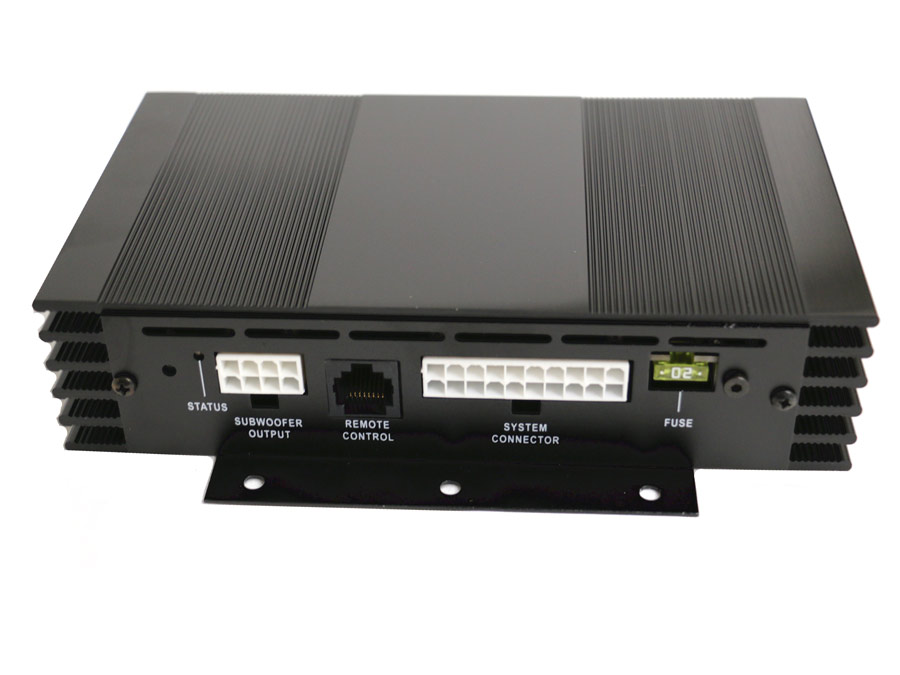 Multi-Channel 64-Bit DSP Power Amplifier
360 Watts RMS (Continuous / @ 2-ohms)
Cirrus-Logic 64-Bit Digital Signal Processing
Real-time system diagnosis for trouble-free operation
Meets all OEM standards including AEC-Q100
Certified performance and operation for the life of your vehicle.
Signature Tuning
Converts analog signals into digital signals by way of four analog- to-digital (A/D) converters.
D/A converters and DSP maintain signal integrity and precision adjustment not possible with an analog signal.
Clean, clear and crisp sound achieved without requiring a massive power amplifier.
4Runner Subwoofer System.
Enjoy deep, non-localized low frequency reproduction.
Subwoofer design is tailored specific for the 5th generation 4Runner. Subwoofer fits flush to drivers side rear panel and easily removable to access the tire jack. You can expect deep, impactful bass reproduction (as long as it's in the recording).

Plug and Play
No splicing, no cutting, no guesswork
.
We carefully took into consideration all the essentials necessary to create a system capable of reproducing a very high degree of detail, transparency and dynamics without compromising the integrity of the vehicle. Therefore we engineered the installation to be seamless, intuitive and fun. Everything was considered when designing Our Quick-Sync Wiring Harness.
Personalize your experience
Feel free to give us a call if you have any questions or requests: 855-636-6346
Speaker Upgrades
Premium Sound + Ease of Install
Front 1" Soft Dome Tweeters (2)

Front 6 x 9 Woofers (2)

Rear 6.5" 2-Way Coaxial Speakers (2)

Rear 6.5" 2-Way Coaxial Speakers (2)
System 500
Specs listed on Build Page
Multi-Channel Power Amplifier

64-Bit Digital Signal Processor

O+ Signature Sound Reproduction

4Runner-Specific Subwoofer System

Quick-Sync Wiring Harness
Questions or Requests?
*We not only guarantee the quality and reliability of every OEM Audio Plus sound system, we are confident you will not find a better sound experience for the money.